Revenge is a Dish Best Served Fat…
Hello my darlings!!
So, four years ago, I had taken my sweet little then-toddler Lola grocery shopping one morning. It was a happy little Mommy/Daughter outing and I was in high spirits.
The Kroger we were at had sample stations set up that day, and as soon as we walked in, we stumbled upon a pomegranate juice one, and Lola was pumped to try it.  We skipped up and as Lola was sipping away, the lady running the station looked at my stomach and said, "When are you due?"
Ah, fuck.
I get this sometimes. 1. I have a big belly. I am missing some vertebrae (birth defect) and am about two inches shorter than I should be, so even when I weighed 90 pounds, I still had a puffy belly. Awesome trait to have, by the way. 2. I was still carrying most of my baby weight, and was well aware of being 40 pounds overweight. Lovely when people point it out.
Normally, I deal with this by trying to make a joke. This day, I laughed and said, "Nineteen months ago!" and pointed at Lola.  It is here when most people realize their faux pas and apologize, and we have a laugh as I suck in my stomach.
This was a special breed of human though. Instead of being embarrassed, her eyes bugged out, her jaw flew open and she gasped, "Oh my god, how much weight did you gain with her!?"
I swear to god, it felt like I'd been punched in the face.
I was so shocked that I actually blurted out, "I gained 62 pounds…"
Yes, that is more than the suggested amount, but damn it, I enjoyed that pregnancy and Lola and I were both delightfully healthy, so all was well according to my doctor.
This chick disagreed. Strongly.
She starts loudly saying, "Oh my gosh! Why would you do that!? That was waaaaaaay too much weight for you to gain!"
I have never been as horrified as I was right there. There were other shoppers at the tasting station, everyone was staring at me, and I was floored. I was too stunned to form witty responses!
So instead, I just stuttered my way through saying my doctor had said I had a healthy pregnancy, that I knew I had weight to lose, and that I had recently lost 20 pounds and was still losing.
But the bitch kept going. She just KEPT. GOING.
Chiding me. Saying how irresponsible I had been. How unhealthy it all was. She was absolutely appalled by my weight gain.
Eventually, I just thanked her for the input, put my head down, and pushed my little cart with Lola still sipping her juice sample away.
As I retreated, I could still hear that horrible woman telling the other customers that had been standing there, "Well, I'm sorry, but that was just TOO MUCH WEIGHT."
I was gutted. Like, cut totally deep. There is absolutely nothing that hurts worse than being humiliated in front of your kids.
I managed to keep my chin up until I made it to frozen foods. I couldn't help myself and I stood there and cried as toddler-Lola asked, "Mommy, why sad?"
I put on my very bestest Mommy smile, started talking in the happiest of ways, scrapped my grocery list and just grabbed the bare essentials before scurrying out of that store as fast as I possibly could.
The whole drive home, I cried in silence as Lola chattered in the backseat.
That afternoon, when Lola was napping, I decided what had happened was just big, fat, not okay. I dialed up the store and asked to speak to the manager.
I'm not a crier, by the way. I cry at TV and movies at the drop of a hat, but as for my own emotions, I never cry. But when I explained myself to the manager, there I was, crying for the third time that day. That in itself was humiliating in it's own way.
The manager was satisfactorily disgusted and demanded to know who this woman was, and he assured me that he would go fire her right on the spot.
And here is where I decided I was going to take the high-road and get a little revenge.
I said, no. I don't want her fired.
I had a plan…
I didn't know that woman's story. Was she always a raging, judgmental bitch? Maybe. Maybe she was having an off day. Or, maybe she needed that job to pay for her house, or medicine, or something vitally important that if I made the call, it would destroy her life.
And yes, what she did was horribly wrong, but I didn't want that on my conscience.
So, I asked Mr. Manager if instead of firing her, could he do me a favor? He said absolutely anything.
This is what I asked of him: I said I wanted him to call a meeting with all the employees. And at that meeting say that it had been reported that I woman had been humiliated by one of them, but that the woman was refusing to say who, because she didn't want that person to be punished for what they did. And to let them all know that he was prepared to fire the offender immediately, but that the woman had insisted no firing happen.
And the manager did just that.
He called me a few days later. He said the meeting had gone very well. He gave them all instructions on how NOT to talk to customers, showing terrible disappointment that it even needed to be done. He made them all take sensitivity training. And he said the entire time he was talking, he was able to see exactly who it was that had spoken so badly to me.
Her head was hanging. She was nervously looking around waiting to see if anyone would catch her. He said she looked totally ashamed. Her guilt was palpable.
I'm not going to lie. This pleased me. Immensely. I loved that whatever terror was going on inside her head at the thought of being caught, that the horror everyone else in the room was expressing at what this anonymous person had done was ringing in her ears. That she now had to live with knowing that while she had been a hideous, rude bitch to someone, that someone had chosen to not take the same path and cost her a job.
Seriously. It was delicious.
I thanked the nice manager for his favor, and he said that he still felt terrible for the treatment I had received, and offered me a gift card to the store. He was a good fella.
So, that was my revenge, kids.
Sure, I could have had that nasty wench fired. But all that would have done was make me live on in her stories as the evil fattypants that got her fired. And I didn't like the guilt that would have come with it.
Instead, I tried to take a slightly vindictive high-road and got the cleanest revenge I could think of.
That might make me slightly evil, but it felt pretty stellar in the end.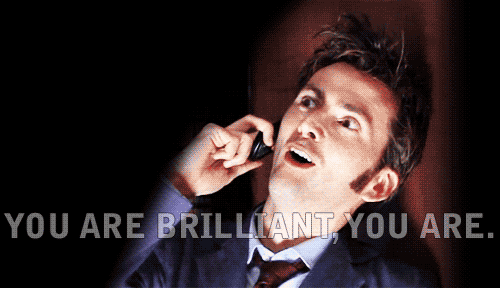 The moral of my story is this: Don't judge people on their weight. It's not polite. We know we are fat. We don't need you to tell us. It's really not a big secret.  Seriously.
Also, the person you insult may not be as nice about it as I was. In my old age now, I would probably just pull a half-eaten pie from my cleavage (Where the hell do you store YOUR pies!?) and throw it in my insulters face.
And then try to eat it anyway.
I hope you all are having a fabulous week, 😉
Until next time,
Peace, Love, and Cleavage Pies