You, Me, and OCD
Hello my loves!
This is one of those serious blogs with a attempt-to-be-chipper tone. It's how I roll.
A week ago, I came slightly unhinged. It happens from time to time, so don't freak out.
Sometimes my brain is just like, NOPE, and decides it doesn't want to play by the real world rules for a hot minute.
Usually, I can feel it coming, sense the catalyst, or whatever, and I'm in front of it before it starts. Which is cool. It makes it a lot easier to stow away properly and function.
But this time, well. This time my brain went full on dick and I woke up just all out of sorts.
I'll admit, it's been a crazy few months. Between all the drama, life, and cancer scare, I'm not completely shocked I'm having a moment.
I could do speeches about how I may have OCD but my OCD doesn't have me, but I won't. Mostly because I sound ridiculous saying things like that. Other people can pull off those Oscar-winning moments, but I lack the grace. I usually giggle or say something about boobies and it loses its crowd-moving momentum.
So what does this mean? Well. It means I am really, really uncomfortable right now. Just, *TWITCH*
I have OCD every day, but it's in a way I can manage so that most people don't even notice. But in cases like right now, it's a lot louder, if that makes sense. It's trying to grab extra ground that I try to keep it from getting. It wants to affect more, wants to have more control.
Yes, I talk about my disorder like a sentient being. Because it's a douchecanoe and I can.
Plus, it makes it easier to separate the things that come with it from the person I am.
It's hard to talk about this stuff with people. Honestly, if you don't have a situation similar to this in your day to day, it's hard to understand. Not because you aren't an awesome, open-minded person, but because it can be just *that* bizarre.
I won't lie. I don't get embarrassed often. I blush like it's my fucking 9-5, but I don't get genuinely embarrassed by much. See my frequent losing of pants in public, or verbal incontinence for evidence.
But this embarrasses me. It just does. I don't like talking about the things I do, the things I think when these little "fits" are going on. I'm aware that what I'm doing isn't normal, or whatever normal means, and I'm *very* aware that I don't want to be doing it. But I'll go ahead and do it because I kind of have to.
You know me, though. When something's got me in a funk, to the blog go I.
So, this is kind of depressing, right? Not a lot of happy feels when I'm all sucked in like this.
Let's turn that shit around then, shall we?
First up, if I seem off sometimes, or if I disappear a little? It's probably this. And you have my sincerest apologies. I'm here, I'm just fighting with my brain a little more than normal. I do love you, and I'm right here if you need me. True story.
It's my instinct to withdraw when I feel like this. I just want to hide and be crazy and come out when the coast is clear.
But I don't. Because fuck the part of my head that is being an asshat. I don't like being bossed around, even by my own brain.
I appreciate the humor in the situations. I have to. While my brain is absolutely certain I am being strangled to death by my socks (real fear) or that there are spiders hiding around every corner (also real), I can absolutely see the absurdity in it.
So, when I feel like I'm being strangled by hosiery? I put on Iron Man socks and tell my brain to suck it. Because Iron Man could take that shit on better than I can, so let him deal with it.
I mean, come on. Socks. My brain is afraid of socks. Really, brain?
I make light of my own fears and compulsions because, well, for starters I think everything is easier to deal with when you're laughing, but also because whatcha gonna do, you know? I can either take it with a tantrum and tears or with a guffaw.
No matter the question, guffaw is always the answer.
And I go to my happy places. Looking at certain things helps a lot. A dandy little focal point that calms me down.
I actually have a wall. I call it my "inspiration" wall because it sounds cooler than calling it my Obsessive-Complusive Focal Point wall. Doesn't really flow off the tongue, am I right?
This wall. The only people who have ever seen it are my husband and kids. Essentially this wall looks like the bedroom wall of a twelve-year-old girl. Posters, pictures, random things.
I swear I have a point here. Stay with me.
When I was at the writer's conference in July, I met a new friend. At the end of the weekend, during a conversation of much laughter and silliness, I happened to show them a picture of the wall. I don't have a clue why. I think I was feeling anxious in a crowded room and I needed to look at it for my own good, but I felt the need to share it with them.
And they were like, "That's a fucking awesome wall."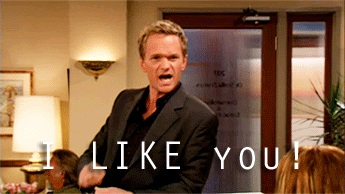 That was a big deal to me. I'm certain they have no idea, and most likely don't even remember the moment, but for me it was like, LOOK WHAT I DID!
I don'd ever hide this about myself. I have a disorder. I've had it forever. It is what it is.
But I don't generally like flaunting it all, HEY LOOK AT THE CRAZY THING I HAVE TO DOOOOOOOOOO!
People look at you weird. Some people just don't get it, and they don't want to. They make what I hope are unintentionally rude comments, or they back away like I'm about to peel their skin off.
I rarely peel people's skin off without their consent.
It's a risk. It's a big risk to put stuff out there to people who may or may not be understanding or receptive to what you are dealing with. This is not mental illness specific. For anything, revealing a hidden part of who you are is a scary thing. I know I drop serious confessions on this blog like it ain't no thang, but trust me, it's always a hint of terrifying, even for me.
That was a big moment for me. Sharing my wall with someone new.
So I am focusing on that right now. I'm choosing to look at the thing I did that was out of my comfort zone and made me feel better. There aren't a lot of things that bring relief when I'm all in the mud like I am now. I watch a select few things that make me feel calm. Listen to a select few songs. Talk to a select few people who don't blink when I say, "Yo, I have this unyielding urge to count all the strands of my hair. Want to look at funny pictures of cats on the internet instead? Cool."
But I'm also letting it loose on here. Because I need to let it out somewhere. It's exhausting to just hold it all in. And you guys, whether you know it or not, are one of my happy places. I dig you kids.
And let me put this out there: If any of you need someone to show your wall to? I'm all yours. I will understand that wall, baby.
It uh, doesn't have to be an actual wall.
I'll be fine. I'll get ahead of this like I always do, and carry on, and be back to where it's me and OCD, not OCD and me.
Up to that moment, I'll just be sitting here laughing at my socks. As people do.
I hope you all are having awesome weeks!
Until next time,
Peace, Love, and Walls