Fizzy Follies: The Funeral
Hello my darlings!
So, long time no blog… Very sorry!
But today I am back with…well, quite a tale.
I debated posting about this because I don't want to be disrespectful in any way, but by the end of this event, even my mom was declaring it had to be shared.
I thought about just working this into a novel someway, but I have been reliably informed by multiple people, it would be rejected as fiction for being too absurd.
So. 
I was at a funeral…
There's really no good way to say I'm about to tell you about ridiculous things that happened at a funeral. I'm trying to take the perspective of finding something to smile about in any situation. (Or I'm just a dick. Either way.)
(This was not a sudden death funeral, it had been a very long time coming, so everyone was sad for the loss, but happy the struggle was over, if that helps at all…It probably doesn't. Anyway…)
Okay. So. Last night was the calling for the funeral. Where they show the body and everyone stands about chatting and reminiscing.
A little background: I don't do well at funerals. I am the person who is so uncomfortable I will accidentally say horribly awkward things. I know this.
BUT. I am also scared to death of bodies at a funeral home. When I was a kid, my mom told me a story about the funeral of a man who'd had a terrible hunch in his back, so when they laid him out, they'd had to put a rod on him to keep him straight.
It broke in the middle of the funeral.
And the body SAT THE FUCK UP.
So, yeah. Bodies in caskets freak me out royally.
My mom, my sweet little old lady of a mommy, doesn't get around well at all, so I took her with me and propped her up as we went. After having a legit panic attack (and almost dropping my mom) as held onto her viewing the body, we sat together on a couch about ten feet away from the casket.
It was then I saw a weeping angel statue standing under the casket that looked like it had been pulled from Steven Moffat's nightmares.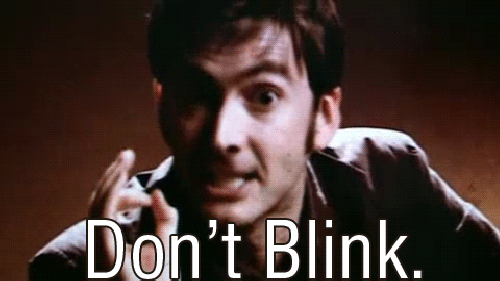 I actually shrieked. Out loud. In a funeral home.
Then, a young lad came over to talk to us. I wasn't sure how old he was exactly, but I knew he was young teens, probably. And he was the youngest son of my cousin, the woman in the casket.
He sat next to me and we chatted. All was well.
And then…he looked me straight in the eye and said verbatim: "I know where you're ticklish."
I blinked at him for a very long time before I said, "Uh, I don't know how to respond to that…"
And there, ten feet away from the casket, he reached out, grabbed me by the ribs, and started tickling the ever longing HELL OUT OF ME.
More shrieking… I yelled at him. "OH MY GOD YOU CAN'T TICKLE SOMEONE AT A FUNERAL THERE ARE RULES!"
I had just yelled. At a teenager. At a funeral. HIS MOM'S FUNERAL.
1. I don't think this child realized I am an actual TWO DECADES older than he was. 2. HE DID NOT REALIZE WE WERE RELATED.
I tried to get up and run away, but the photographer stopped in front of us.
Did I mention there was a photographer? Cause there was. A professional photographer hired to shoot the funeral. He had a big stand, lighting equipment set up around the funeral home, etc. He wanted a picture of my mom, me, and the kid sitting together on the couch.
The kid scootches over to me until he is practically sitting on my lap, but the photographer looks up at us, annoyed.
"You," he says, pointing at me. "Uncross your legs."
I look at my mom confused, but do as I'm told.
"Now," he continues, appalled. "Cross them at the ankle like you were taught."
THE FUCK?
I was so shocked I did as I was told, he took the picture, and sauntered off.
I ran from the couch and took a seat next to my mom on the other side of her. It was there I watched the photographer have people come up and pose with the body.
"Now, put your hand on hers. That's right. Now, look sad. Okay, now think about how happy you are that she's taken the journey to heaven."
I don't know if this is a regular occurrence at funerals, but it was at that moment I asked my mom if we could leave…
We sat in my car silently eating french fries for like half an hour.
And today! Today was the actual funeral service!
I woke up, got ready, threw on my funeral dress, and realized the last time I had worn that dress was at least two years, and 30-50 pounds ago. I ran out to show my husband.
"Why…why are you dressed like a Puritan?"
I fled back in to find something that didn't resemble an oversized nun's habit and all I could find was a short, flowy dress. COVERED IN SKULLS.
I had to wear a skull dress. To a funeral. Omg.
At the service, my mom couldn't physically make the walk into the church, and we hadn't thought to bring her wheelchair. She told me to go into the service and text her updates.
And I did. I sat in the back, watching the service.
And there was the photographer. Set up right beside me.
I happened to cross my legs when I was checking my phone, and Mr. Photog looked at me and shook his head in disgust.
The service went on and was very lovely. I did get a text from my mom in the parking lot alerting me a woman in full Scottish garb was playing a bagpipe on the sidewalk, and had just walked inside.
I turned and looked. Sure enough, there is the lady, full-tilt tartan, holding a bagpipe. Just standing there.
She never played at the service. She just stood there.
In another funeral first, they decided to do communion. (This wasn't a Catholic church, so I was a bit surprised.)
I am also not religious. I texted my friend who is a regular church goer, and not a heathen like me. "They are doing communion! Do I take it? I'm not religious!"
"No. You do not take it," she tells me.
So when the lady with the tray came up to me, I politely declined.
And apparently offended the hell out of her because she frowned and shoved the tray at me.
So I took the little cracker and the wine and waited for lightning to strike me…
As soon as I was done, someone informed me that taking communion if you don't regularly go to confession is a sin. Awesome.
As soon as the service was over, I ran past the random bagpipe player and back out to my car freaking out to my mom that I'd just sinned and was certainly about to be smote.
We sat there waiting for the funeral procession to begin to the cemetery when one of the police escorts came by. He told us to put our blinkers on, etc.
Then he looked at my dress.
"Skulls. Very nice choice," he said.
I was mortified. I started rambling. "This wasn't what I meant to wear! The other dress was a few years old and like, 30 pounds ago, and it didn't fit and this was all I had! I did NOT MEAN TO WEAR SKULLS TO A FUNERAL."
"Oh," he said with a wink. "I see how you casually slipped in there you'd lost some weight. Very nice."
Me: *blink, blink* "What?"
He reached in through my car window, took my hand, and looked at my BAD WOLF ring. "Oooh, this is very nice!"
I yanked my hand back and said, "Uh, I wear my geek proudly."
The cop was shooed off by a funeral worker person who was very annoyed that instead of informing the rest of the cars about their blinkers, he'd been chatting with me.
My mom, completely stunned said, "Did…did you just get hit on by the police escort?"
"Is that what just happened?"
My mom shook her head. "Only you would get hit on at a funeral. ONLY YOU."
The procession started moving and I pulled out with the rest of the cars. As we passed the flirty cop on his motorcycle, I swear to god guys, he tipped his hat at me.
Except he wasn't wearing a hat. HE TIPPED HIS HELMET AT ME.
We drive on. Motorcycle cop has to go up and down the line to block traffic as needed. When we pass him, he tips his helmet at me. When he would drive by us, he'd BLOOP his siren at me and wave.
Every. Single. Time.
My mom and I counted 7 BLOOPS and 7 helmet tips. There was also one very extravagant moment where he blared his sirens, honked, and waved enthusiastically at me as we turned a corner.
As we pulled into the cemetery, the cop waved to me in my car, and you guys, I have witnesses, HE SALUTED ME.
Today was a very windy day. I was wearing a very short, flowy skull dress. Please imagine me waddling across the graves, clutching my dress to my legs, praying no one was watching when a gust flashed my ass to all those in the great beyond.
Just FYI, it happened. And I'm pretty sure the minister knows I was wearing Batman underwear.
So, it was sooooo windy, I had trouble walking. So did other people. Someone actually got blown over. Like, blown right the fuck over.
They started huddling us all under this metal tent set up over the gravesite. Then we realized we were in a metal friggin' tent in the wind.
People started reaching out and grabbing the bars of the tent to keep it from blowing away. I was so stunned when the photographer man lunged for a bar, I took a picture with my phone.
As soon as the ceremony ended, I clutched my skirt and ran like hell.
My mom and I spent the entire ride home waxing poetic about the beautiful service and bursting out laughing because…I mean really.
I can't even attend a funeral like a normal person.
And my mom can't stop saying, "You got hit on. At a funeral. By the police escort…just…how?"
I hope you all are having the most wonderful of weeks!
Until next time,
Peace, Love, and BLOOP