Agents Are People Too…No, Really!
Hello my lovely readers!
As a writer trying to navigate my way into traditional publishing, I have come in contact with literary agents.  Anyone hoping to publish their book traditionally speaking will most likely deal with an agent at some point.
I have learned a lot over the years of looking into how one acquires and agent, and through the querying process about how to communicate with agents.
But the most I have learned is through Twitter.
I can't sell Twitter enough as a huge, unexpected assist for writer's in today's world.  It's like this delightful little literary network, all dictated through 140 characters or less.
When I first started traipsing through the Writer Lands on the Twitterverse, I noticed right away that people tend to stare in awe at agents the way people stare at celebrities.
Because in our world, these people *are* celebrities.
If you are trying to sign with someone, you research them, you *ahem* lightly e-stalk them at times to learn their interests.  You get to know them in a big way because you want to make damn diggity sure that when your query lands in their inbox, that it is tailor-made for them to shout, "I MUST SIGN THIS BRILLIANT BASTARD!"
And as these agenty folks are the ones that would indeed hand you your key to the kingdom, you are intimidated as all shit by the mere thought of them.  I was.  At first, anyway.
Over the last six months or so, I have watched and played around on Twitter and I have come to a shocking conclusion.  Are you sitting down?  Are you ready for this?
Agents are…*deep dramatic breath*…PEOPLE.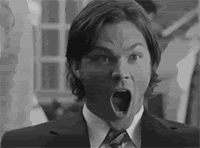 That's right, kids.  They are people.  Most of them are ridiculously nice people.
So I talk to them.  They are posting things and making conversation on there, and sometimes, I have something I might want to add.  I tend to have a faulty verbal filter and it never occurs to me to be shy.  I figure that if they don't want people chatting, they wouldn't be as chatty.  Legit, yeah?
I can't tell you how many times a week I get messages from someone *SHOCKED* to their very core at my apparent ballsiness.  I was unaware I was being ballsy.  I thought I was being friendly.
"Oh man, how are you brave enough to say those things to them!?"  This is the general idea of what people say.
I dunno.  I talk to them like I would talk to anyone I've just met.  Although, I do try to keep the F word at bay.  This is professional networking when you get down to it.
I recently went to the Midwest Writer's Workshop in Muncie, Indiana.  It was a blast and a half, by the way, I highly recommend it.
There were four agents present at this event.  Sarah LaPolla, Brooks Sherman, Kathleen Ortiz, and JL Stermer.  I knew the first three from Twitter, and had even conversed with Sarah and I think Kathleen a handful of times.  Even if they didn't know me, I was a huge fan of theirs just from their Twitter feeds.  I wasn't pitching anything they rep, so I felt very little pressure when on the first night, after everyone had dismissed and I saw the agents chatting with each other, I wanted to go say HELLOOOOOOO.
I suggested this idea to the members of my table and I swear, you would have thought I'd suggested going and dancing naked juggling statues made of mashed potatoes and sculpted in the likeness of the agents based off the looks I got.
Everyone was horribly intimidated by the thought.  I was suggesting they go say hello!?  TO AGENTS!?!?!  Was I out of my ever-loving mind!?!?!?!
But I insisted.  They all looked like humans.  I saw no fangs or scales.  They weren't surrounded by a ring of fire, rabid dogs or bodyguards ready to crush our bones into oatmeal.
So I went and said hi, with my table tiptoeing behind me.  Here's the shocker: The agents were all super nice.  And in several cases, just as shy and humble as *gasp* the people talking to them.
I told them I was huge fans of  theirs on Twitter (Lordy, can KOrtizzle bluuuuuuuuuuuuuuush) and that I really dug their work.  I didn't pitch to them. (Although Brooks actually asked several times what I was pitching and I had to assure him this wasn't some plot, I really just wanted to say howdy.)
To my incredibly immense shock, Sarah LaPolla actually knew me from Twitter.  I am not gonna lie.  I fangirled the hell right out when she said that.  It was a special moment.
I do this on Twitter as well.  I say hi.  I comment on posts when I have a genuine comment to make.  Sometimes they write back, sometimes they don't.  They are busy people, so if they don't reply, don't take it all personal-like.
Don't be stalker-ish.  Don't try to pitch them shit uninvited.  And for the love of all things good and holy in this insane universe, don't freaking snap at them for rejecting you.  This is douchey.  Do not do.
What you might get out of it is some knowledge of an agent that you may have overlooked but now realize they are the absolute perfect fit for you.  Or you may save yourself a heap of trouble dreaming about being signed by a specific person who as it turns out, isn't a fit for you at all.
Just remember, you are indeed in the midst of a semi-professional atmosphere, so don't go too crazy.  And just because they chat with you once or twice doesn't mean they are your BFF's and start acting overly-familiar.
Do take this as a chance to learn.  The agents Tweet some seriously helpful advice and information that you would never think to ask or research.  Do take opportunities to say hi and let your presence be known.  Hey, if your query lands on their desk and you made a nice impression on Twitter, they very well might remember that.  I can honestly say I have had agents write me back saying they remembered Tweets of mine and it made their day.
The bottom line is that you are interacting with some badass people who are ridiculously well-versed in the industry you are deeply invested in.  Be smart, be respectful, and you are going to learn a lot, and just might make a pal you can talk about sequins with. *coughs* Elise Capron *coughs*
Oh, and when you reply to people, make sure you check who is still tagged in that reply.  Otherwise you might say hideously embarrassing things involving your own boobs and general fuckery to agents.
Or, uh, so I am told.  Because that never happened to me.  Nope.  I totally didn't accidentally talk about my boobs to an agent who has my manuscript.
(EDIT: I was reminded that technically it was my friend that brought up my boobies with the agent tagged.  So, beware when you chat with your friends on who might be tagged.  Still, that shiz was freaking HILARIOUS.  Uh, I mean, it would have been if it happened.  Which it didn't…  Erm.  Yeah.)
I hope you all are having a delightful week!
Until next time,
Peace, Love, and Agents!